Meet the Drift Division 350Z. One of the most well known project cars on the drift works forum.
Click here for the original build thread. Please keep in mind, if you plan to reply, this is an old thread but one that i had personally followed up on. The owner isn't loaded with money, everything was done at a nice calm pace. Most of the work himself by the looks of it.
As there isn't much to explain about the initial car, we've decided to summarize the build thread into minimal text, along side images. And offer a personal salute to the owner on his successful build.
Turns out this bloke wasn't really longing for one of these bad boys, but just came across a cheap bid!
His words:
"One lucky bid on a cheap ass 350Z! Picked this up accidentally (put a cheeky bid in on Ebay not expecting to win) for £5900 – '03 import with 30,000 miles/Km in fair nick!"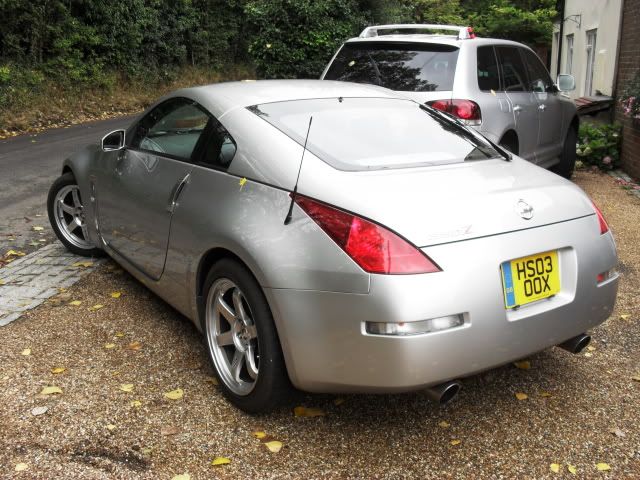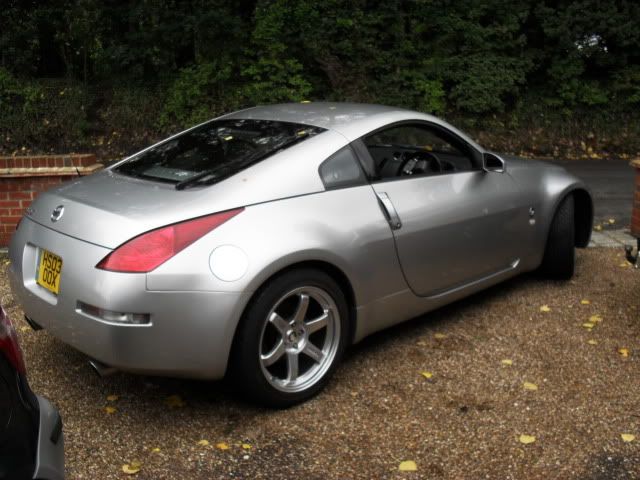 The car seemed rust free, and was destined to become a dedicated daily driven vehicle.
The owner had bought the following parts, upon prior to posting in his build thread.
Driftworks Suzuka seat with bride mounts
Driftworks CS2's
Kinetix Alignment arms set
Carbon Bonnet from a 2007 model
Japspeed Exhaust (Single exit)
De-cat pipes
JWT Popcharger
Defi BF Oil and water temp, and oil pressure gauges.
—————-
Suspension Modification:
Front CS2's and Kinetix A-arms:
Rear CS2's and Kinetax camber and toe rods: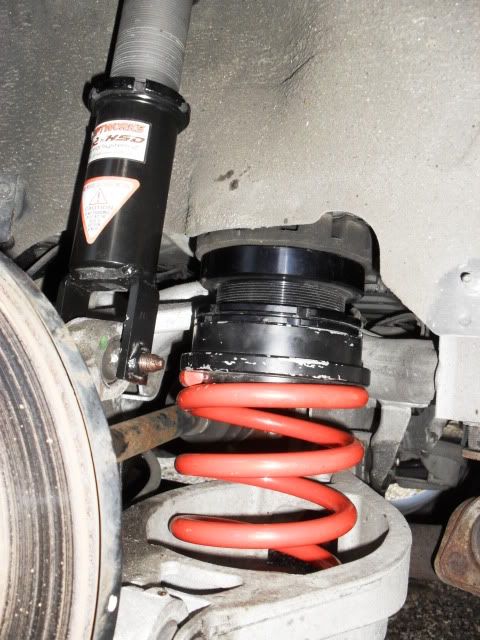 End Result: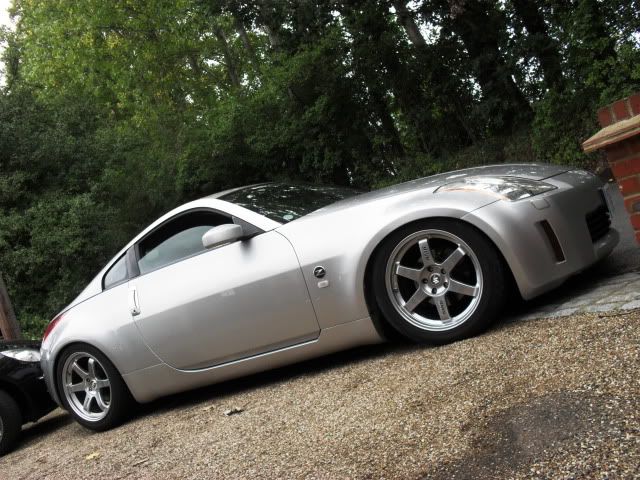 Eventually the bonnet had been fitted:
De-Cat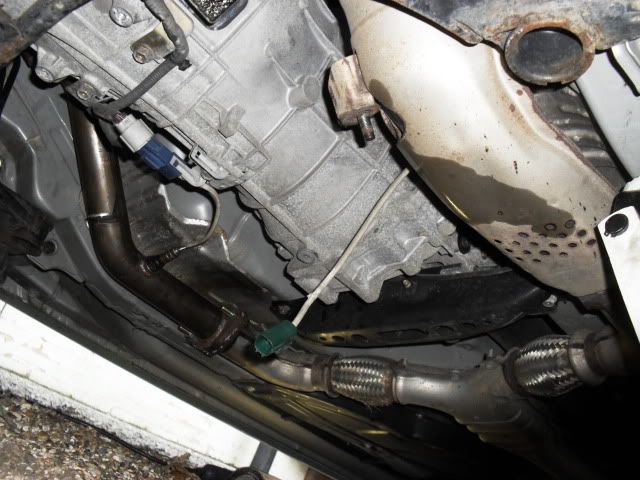 Carbon Fiber Trunk/Rear-End – Along with a set of 18×10 et.5 Rota wheels.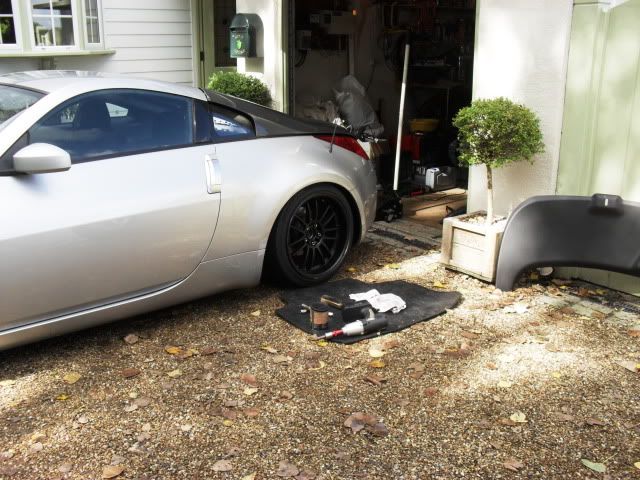 The Exhaust System:
Result:
It's well known that in the 350z, you just don't have all the room you need. This includes room for the small stuff like suspension adjustment etc.  So a hole (although it doesn't look too good), It is practical! With this modification the suspension can be modified without removing several parts.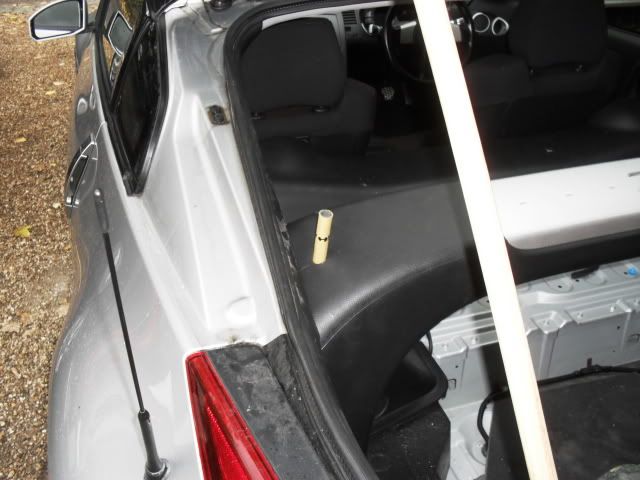 ——–
Packed and ready for Drift Day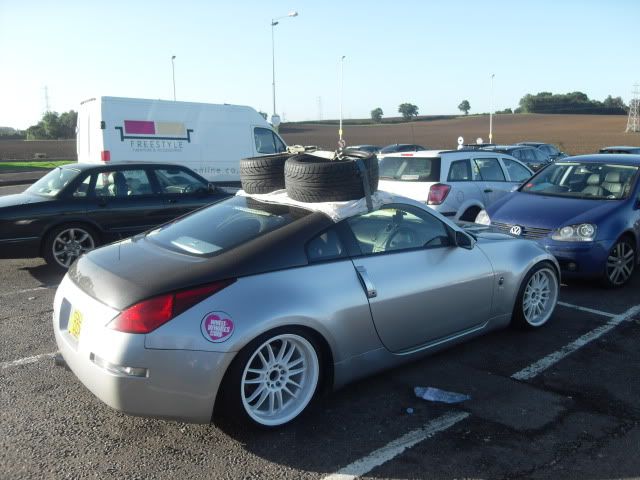 Here are some shots of the car "kickin it"!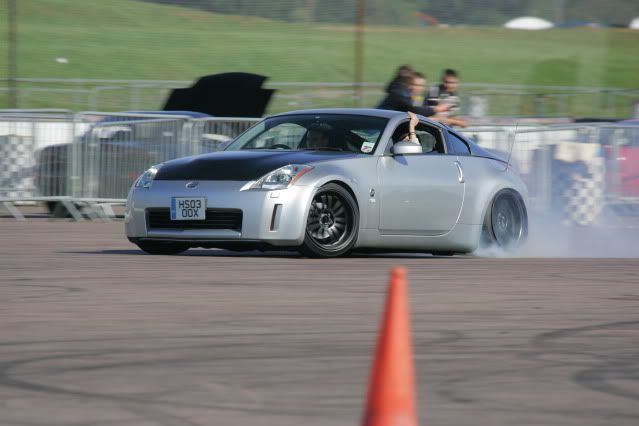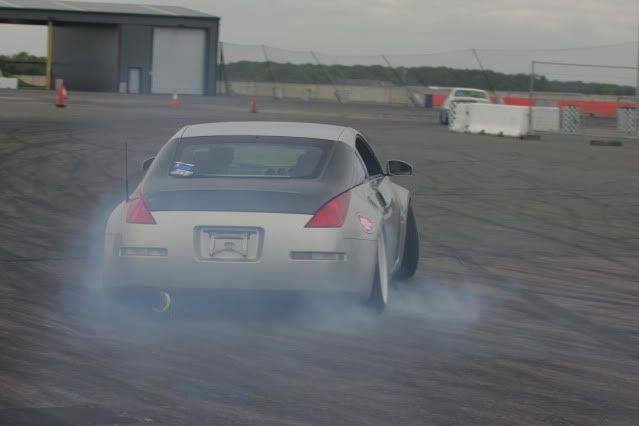 ———-
Defi Gauges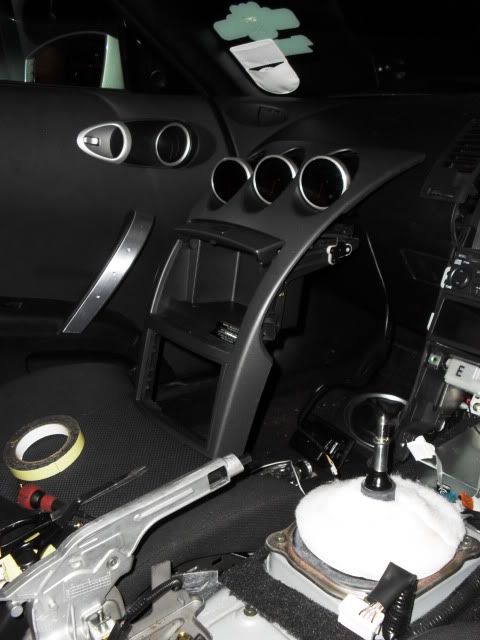 DW Handbrake fitted.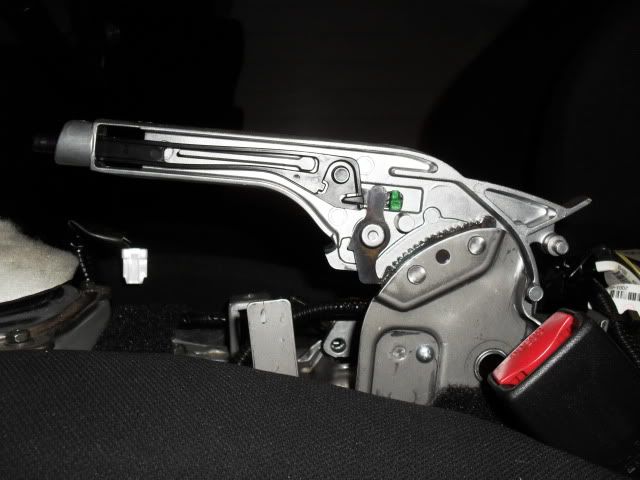 ———-
New Diff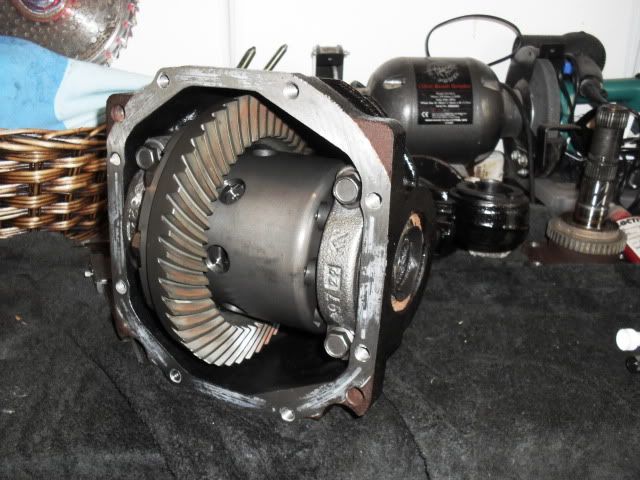 Exhaust System – Again purchased from eBay
Aftermarket Headlights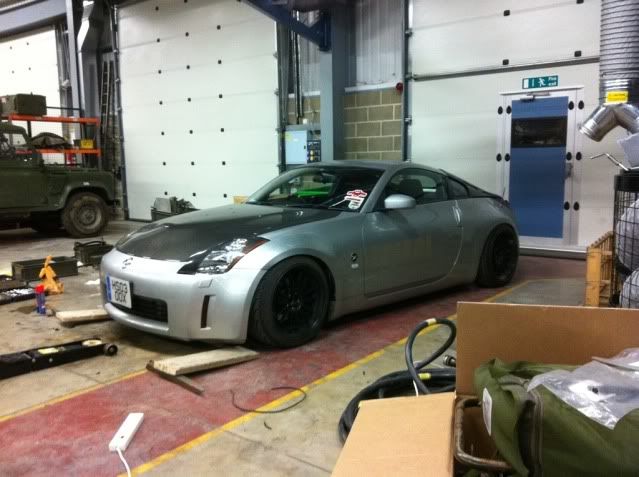 Forced Induction
Then it turns out, the part of all parts had arrived: Meet the second hand supercharger.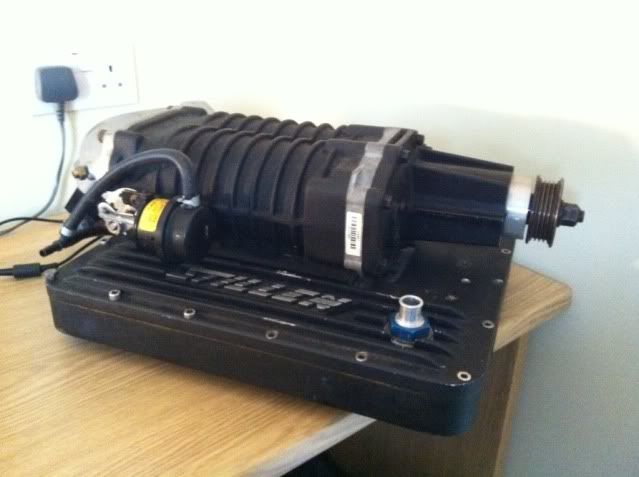 So the intake had been removed, the crankcase breather relocated back around the fuel rails to make room the Supercharger pulley. The Stage 4 pulley was eventually installed.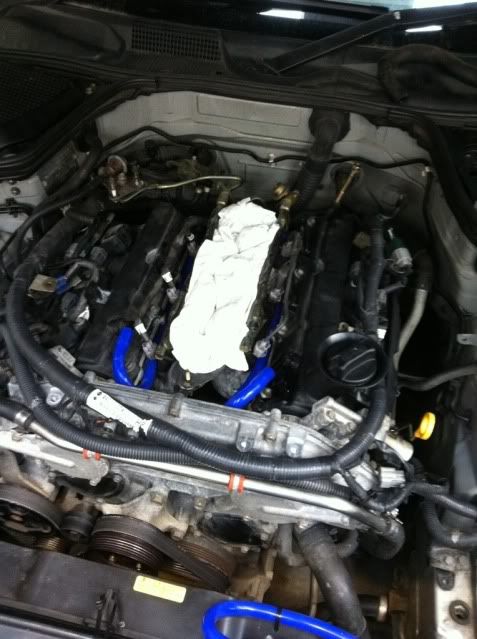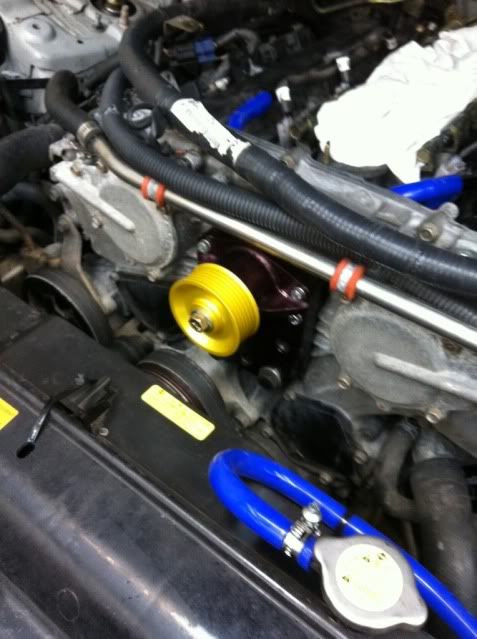 Fuel Pump & ECU all setup.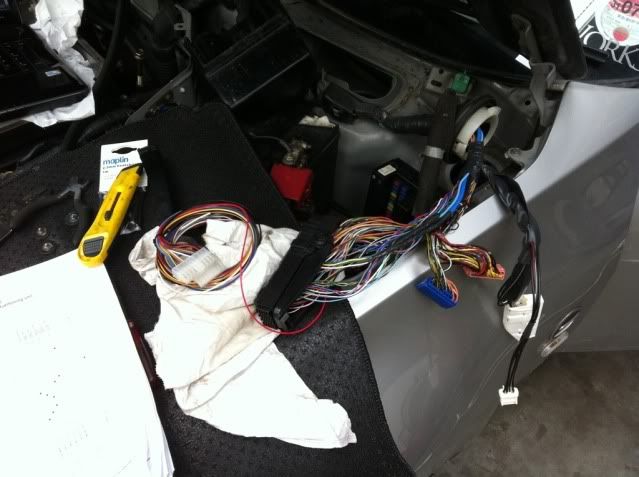 Dyno Charts
As you can see the vehicle has made 338.4 HP at the flywheel.
7 PSI Boost
Here's another sideways images: